Sorry, everyone! I'm a day late in posting. It's been quite a week (and that's a whole separate blog post for another time).
A few months ago, I featured a hound named Reyna who was in need of a home and available through The Sighthound Underground. Well, guess what, folks? She's still in need of a home!
This month I wanted to revisit Reyna because she's such a great dog, and she's made huge strides of progress since she first came on board at SHUG.
Like a number of Spanish galgos rescued and brought to the U.S., Reyna arrived in America suffering from man-phobia--most likely due to mistreatment by men in her home country. She's still shy of men, but that might change with time and a lot of patience. However, she would do best with a single woman who might already have a couple of dogs in her household. Reyna loves other dogs and loves to go on walks. She's extremely sweet and would make a wonderful addition to an all-female household.
Reyna is spayed, neutered, and updated on all shots. Her adoption fee is $300. If you're interested in Reyna, or know someone else who might be, contact
The Sighthound Underground
and fill out an application. Or just stop by the website anyway...there are plenty of wonderful, beautiful, adoptable hounds in need of a home!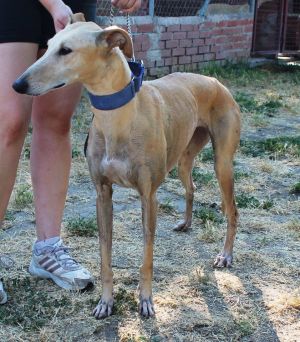 On an unrelated note, next Friday, March 27th, I'll be participating in a multi-author Facebook party.
Song From the Ashes
will be featured from 5-5:30, but the party will be ongoing between 3 and 9 p.m. There will be free giveaways (my book, other people's books, and other fun swag). Stop by and join in the festivities! There will be lots of food! (Ha, just joking...). Stop by my
Facebook page
to join the fun!