As many of you know, The Sighthound Underground is a rescue near and dear to my heart. We adopted our little Trinity through this wonderful charity, and I sometimes have the privilege of helping them process incoming applications for the dogs. Unfortunately, I'm not one of the heroes or heroines flying to Spain or Korea to rescue dogs and bring them back to the US, nor do I drive any dogs from Virginia to Florida or New York to Missouri to transport them to their new homes. But the other volunteers in this organization do. These are people who love these dogs and will do anything to get them into the right homes.
One of the facets of SHUG that I admire the most is the willingness and dedication to rescue dogs internationally. In previous blogs, I've talked a little about the terrible fate befalling most galgos (Spanish greyhounds) in Spain, but that's not the only country from which SHUG rescues. My featured dog of the month is JoJo, and she comes all the way from Kuwait possessing great exotic beauty and mystique (as you do when you come from Kuwait)! JoJo is a type of sighthound called a Saluki (well, she's actually a Saluki mix, but that just adds to her mystique, right?).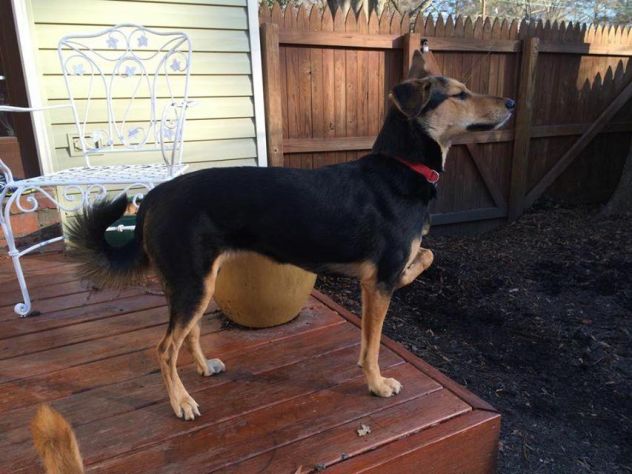 Isn't she a charmer?
In addition to these pictures, there is a short video of JoJo on Petfinder. Go
here
to see her sweet, wagging tail in action!
Salukis are readily found in the Middle-East, and much like the galgos of Spain, they are used for hunting and flushing quarry. Unfortunately, many of them also end up wandering the streets as strays. They are fast like most sighthounds, and possess a great deal of agility and endurance. They are also sweet-tempered, gentle, and very loyal dogs. Sociable, sensitive, and dignified, Salukis make wonderful additions to YOUR home! (Disclaimer: As with any breed, one should research and make educated decisions about what dog is right for them and their lifestyle).
So back to JoJo...She's around two years old, and when she arrived from Kuwait (where she was rescued from the streets), she had a leg injury (or it may have been something congenital), but it is now completely healed. She still doesn't use her one front leg but is in no way slowed by it. Currently fostered in North Carolina by a foster family (but as I said before, this is the underground and legs of transport can be arranged anywhere throughout the US), JoJo is very sweet and desperate to be loved (although she will need a little patience ). She has bonded with her foster furry brothers and sisters, loves to sleep on the bed and couch, although her crate is her safe place. She's a quick-learner, intelligent, loves short walks and having her chest and ears rubbed. She is also house-trained, spayed, and up-to-date on all of her shots.
JoJo would do best in a quieter home without small kids. She does get a little nervous with loud and fast movements.
JoJo's adoption fee is $300, and interested applicants should
rush
over to
The Sighthound Underground
and fill out an application. So what are you waiting for? JoJo is waiting for you!
By the way, I am once again participating in the April A-Z blogging challenge! I met wonderful people online last year, and I had a lot of fun participating. If you're interested or if you just want more information, you can sign up or read about it
here
. The idea is to blog about a topic every day in the month of April starting with each letter of the alphabet.