It's the last season, and I'm really sad about it.
I started watching the show late—it was already a couple of seasons in by that time. During the big snow storm of 2010, my husband and I binge-watched episode after episode. We were both thoroughly hooked. There was just something so original, creative, and intriguing about the set, the characters, the dialogue, and the story.
Although I'm a child of a later decade, I've become a little obsessed with the 60's (especially the early years of that decade). I love the clothes, the décor, the seeming "innocence" of that time (although Madmen suggests things weren't quite so innocent as one would think).
I also connect the show with my grandfather. A dedicated businessman, he wore a hat to and from work every day, he had a wet bar in his office, and he was the king of the mid-day cocktail. He wouldn't have approved of the show, but there are elements of the business end of things that undoubtedly and fondly remind me of him.
It's been so much fun watching the ten-year development and progression of Betty, Peggy, Joan, and Megan as they come into their own and learn to navigate the man's world (sometimes not so successfully). It's also been fascinating to observe and analyze the static, unchanging Don Draper.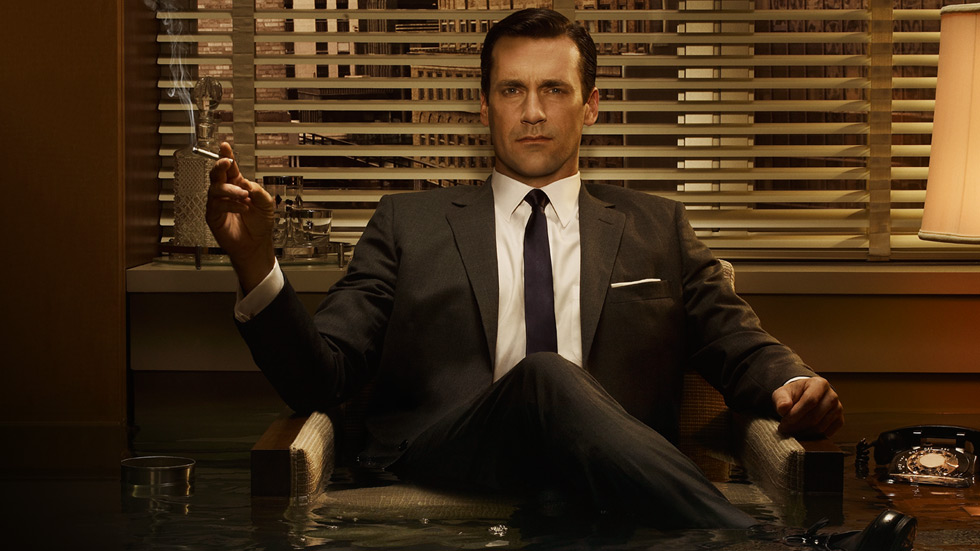 All around him the world is changing and sideburns are growing, but he remains exactly the same. All the while his fall from grace continues. Where is the bottom?

How will it all end?

That's all up to the creator, Matthew Weiner and his vision for these wild and wonderful characters.
Do you watch Madmen? And if so, what do you think is so appealing about it?